Gold and silver are the only substances, which have been, and continue to be, the universal currency of civilized nations.

Albert Gallatin
Gold is an element atomic number 79 to be precise which is found in ore and nuggets. Scare quantities deep into the earth's crust. Gold is the same everywhere because of its purity, uniformity, scarcity, and malleability. Those qualities give it its unique characteristics and are one of the reasons making it so valuable. Gold is not a commodity as it is not really consumed or converted into anything else. It has almost no industrial uses and it's used within the jewelry industry but it is not a consumption item as it is a wealth ornament, form of money that can be worn. Gold is not an investment either as it doesn't entail risk and return. Once gold is in your possession it bears no risk related to clearing and settlement. Banks may fail and exchange may close but the physical possession and intrinsic value of the golden ore won't be incumberet.
The gold bug is back in vogue propelled by fundamentals, sentiment, and technical indicators. The commodity has always been infused with an emotional charge among investors who participate and follow this market thoug there is quite a few things going for it to push the prices higher through solid resistance levels.
Looking at the price action, gold is reaching the resistance levels from 2011 through 2013 at $1,700-$1,800 which were tested twice already and the volume spikes lead us to the third retest of those levels after more than 7 years of lower levels observed on the market. RSI is overbought and volume is falling down so we won't be expecting the level to give up easily. Although triple tops setup with strong fundamentals going for a break out in gold this year.
Analyst around the investment community forecast gold price targets of $2,200-$2,500 even as high as $3,000 for an ounce of gold. There are a number of fundamental drivers sitting behind such forecasts. One of those is the current monetary policy of quantitative easing undertaken by many central banks around the world. Printing money against balance sheet debt to flush the economy with liquidity and foster positive economic activity in the face of the current health and geopolitical turmoil can result in high inflation. Currently, there is no inflation hikes in sight with the US rate at 2.24% and EU 1.2% which is extremely low. The re-emergence of inflation after decades of price stability is not only likely to continue to add to stock and bond market volatility; it will also focus investor attention on assets that are resistant to inflation and gold is a hedge against it.
Another factor that plays a role is the high risk of tail events around the globe. From the global pandemic and health crisis to physical conflict and trade wars. Gold is usually a safe haven asset that has seen spikes in previous decades during the turbulent first half of the 20th century.
We are also currently entering a USD crisis and gold is a hedge against that which is one of the reasons why Central banks are selling USD and acquiring gold as much as they can get their hands on. For central banks gold is money. Nowadays every central bank around the world is buying gold as a reserve asset at an unprecedented pace. Increasingly gold is moving from mines to central bank vaults and from the West to the East. China & Russia are one of the biggest acquirers at the moment as they fight for obtaining more stability and dependence on using the greenback. There are many factors involved in pushing the gold prices higher so we are observing the markets to see if this becomes a reality.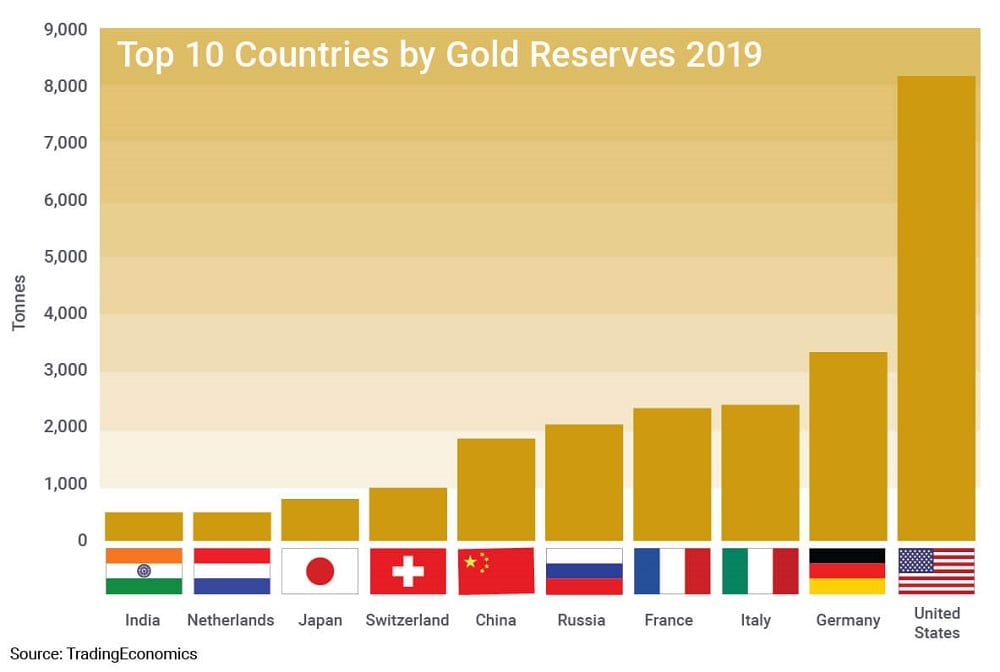 References:
Rickards, James – The Death of Money, April 2014, Publisher: Portfolio, First Edition.
Charts – Trading Economics, Trading View & St.Loius Fed.
Disclaimer: Opinions are my own and not the views of my employer. The Content is for informational purposes only, you should not construe any such information or other material as legal, tax, investment, financial, or other advice.